Homicide: Life on the Street Season 1 Episode 9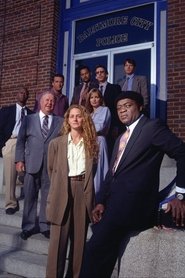 Homicide: Life on the Street Season 1 Episode 9
"Night of the Dead Living" is the ninth episode and first season finale of the American police drama television series Homicide: Life on the Street. It originally aired on NBC in the United States on March 31, 1993. In the episode, the homicide squad works the night shift on a summer evening, but no calls come in, leaving the detectives to brood over their personal matters. The teleplay was written by Frank Pugliese based on a story he wrote along with executive director Tom Fontana. It was directed by Michael Lehmann.
"Night of the Dead Living" was originally intended to be the third episode of the season, but NBC programmers moved it to the end of the season because they felt its slow pace and lack of traditional action was inappropriate early in the series, when the show was trying to woo viewers. The broadcast schedule change led to some consistency and time-line errors, which Homicide producers addressed by adding the words "One hot night, last September…" to the beginning of the episode. Actress N'Bushe Wright makes a guest appearance as a cleaning woman who loses her baby in the police station.
Since ratings for Homicide had gradually declined throughout the season, NBC announced a decision about whether the series would be renewed would depend on the Nielsen ratings of the final four episodes, including "Night of the Dead Living". Nevertheless, it was seen by 6.7 million household viewers, marking one of the lowest viewerships of the season. It received generally positive reviews upon its original broadcast, although some mainstream television audiences were turned off by its minimalist approach. It marked the last original episode of Homicide for nine months until the second season premiere, "Bop Gun". The episode's teleplay won a Writers Guild of America Award for Outstanding Achievement in Television Writing for Episodic Drama.
Episode Title: Night of the Dead Living
Air Date: 1993-03-31
Year: 1993